You can select which observations you would like to share with parents and easily identify which observations have been marked for each learner.
From the App
Create or open an observation
Use the slider bar to select the observation for Parent Share – please note once you have selected an observation for Parent Share the observation will be shared with parents within the next few minutes

From the Web Suite
Create or open an Observation
Click on the edit icon on the Observation Details bar
Click Yes next to the Parent Share field
TOP TIP: A learner must be tagged to an observation before it will be shared with the parent.
Once an observation has been selected for Parent Share and a learner has been tagged the parent(s) will receive an email notification
Example email notification:
---
Subject: Evidence Me: Observation available – Joe Smith (St Mary's School)
A new observation is available for Joe Smith (St Mary's School). Please click here to view.
Regards, The Evidence Me Team
---
The parent(s) can then click on the link within the email which will automatically open the observation within their Evidence Me app.
View Parent Share Observations
You can easily identify observations that have been Parent Shared on the app or the web suite as this is displayed at the bottom of the observation thumbnail image.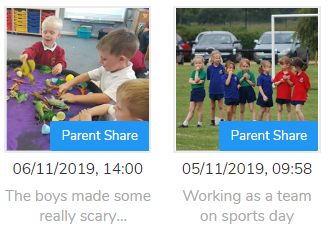 You can also filter the Learner Observation report to only include observations tagged for parent viewing.