It's easy to create your own Teacher/ Parent Template for generating your Learner Observations in PDF.
The existing Parent Template does not include objective age bands.
The quickest and easiest way to do this is to download the Standard Template and modify it to suit your needs (e.g. add your own logo). You can create as many templates as you like!
PLEASE NOTE: The templates are based on Word mail merge documents. You can type in your own standard text e.g. headers, titles and add a logo. The other data (school, learner, observation details) is added from the web suite at the time of report generation by using "field" information in the template. You will see these "fields" enclosed in double angled brackets within the template e.g. <<title>>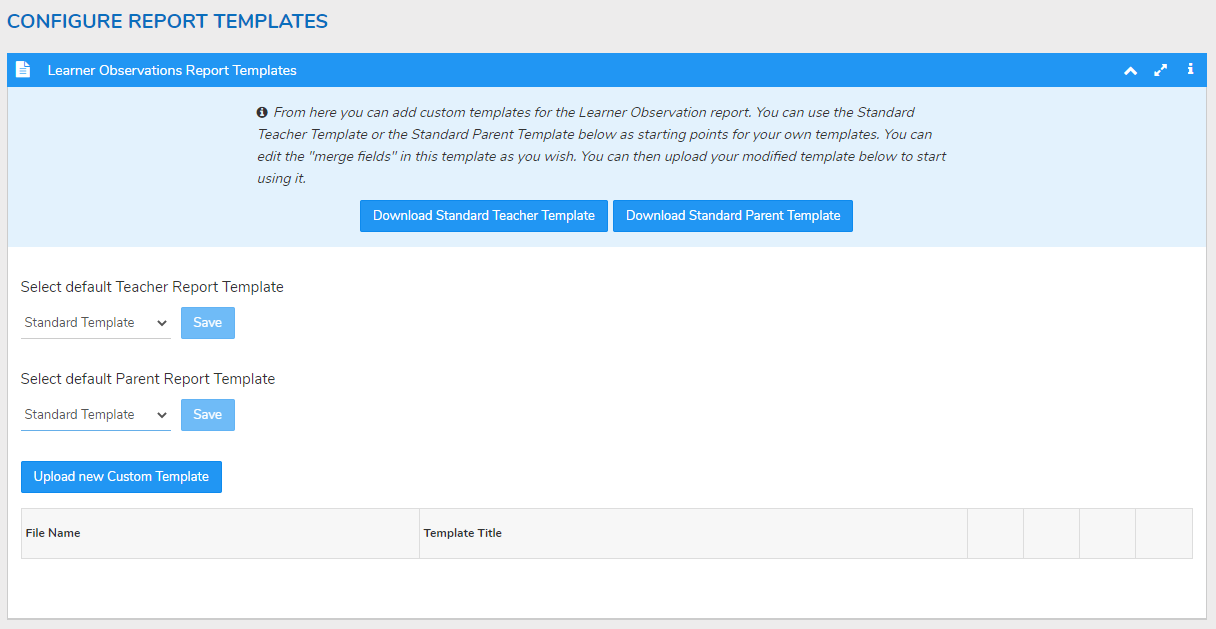 Download the Template
In Administration click on the plus icon  next to Modules
Click Report Template
Click Download Standard Template
Edit the Template
Open Standard Template.docx in Word
Move, delete and copy the fields as appropriate; you can copy or cut and paste (make sure that you copy the whole field, including the angled brackets)
Add, delete or modify the standard text
Add/remove graphics and logos
Edit the size of images by clicking them and resizing the box
Change the font size and style by selecting  fields or text and changing the font style
Save your new template with a meaningful name (e.g. "My School Template for parents.docx")
What the different fields represent: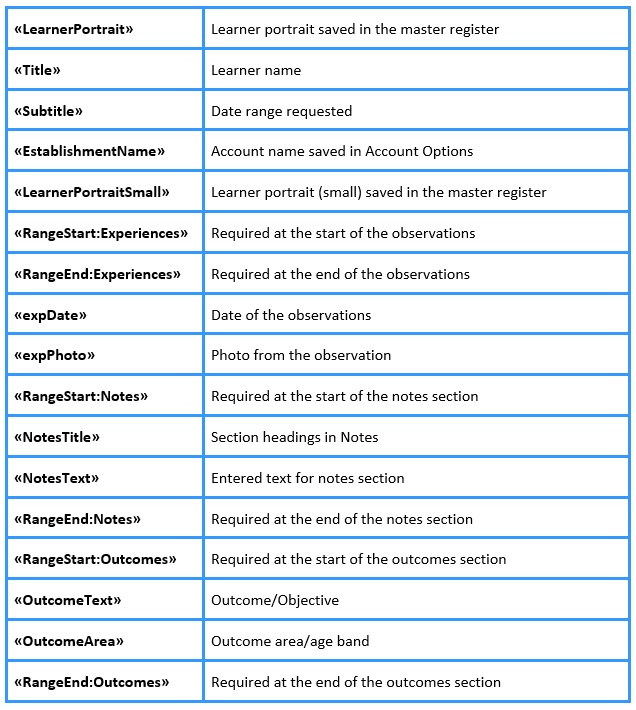 Template Downloads
Below are some sample templates for you to download – please click to open the file and save it to your computer. You can then edit the template to include your school logo if you wish. Save any changes you make and then upload the new template to your web suite using the below instructions.
Upload New Custom Template
Click Upload new Custom Template
Drag and drop the document into the upload box or select browse
Click Upload
Your Template Title will automatically be set to Custom Template we recommend clicking Rename to give your template a more meaningful so you can easily identify it
Your new template will be available to select from the Setup Filter and Select Template option when generating the Learner Observation
You can also set your template as the default template by selecting it from the dropdown list and clicking Save.