Great News! Did you know that Evidence Me can be used for setting activities for learners at home?
As well as adding photos, videos, and notes you can now add documents such as worksheets and web links. CLICK HERE to find out how.
Parents are able to send evidence and worksheets back to you. This can all be managed using the Parent Share features in Evidence Me.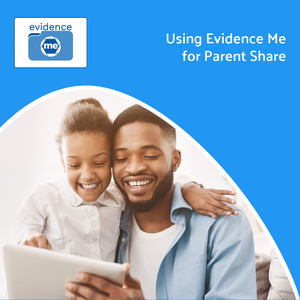 Here's how to set Home Activities:
Create a new "Home Activity" observation
Start your notes section with a title (e.g. "HOME ACTIVITIES"), adding all the details of the activity in the notes section of the observation
Set "Parent Share" to YES (see Parent Share Help and Setup below for more information)
Parents will receive  a notification that there is a new observation to view
TOP TIPS:
Use a standard picture such as the one displayed below (right-click to save) or your school logo to identify home activity observations easily

Use the Observation Tag feature to add a "Home Activity" tag. This will allow you to filter and find all your home activity observations easily. CLICK HERE to find out how
If you want to add videos longer than 2 minutes add them by creating/ editing the observation directly on the websuite (there is no limit on the length of videos added directly to the websuite however there is a limit to the size of the video that cannot exceed 500MB. We recommend capturing your videos in a lower resolution to get the maximum length but minimum size)
If you already have videos and documents stored on your school website or other media source (e.g. youtube channel, Vimeo, etc) why not add a link to it in the observation. This could be much quicker and simpler and would save additional storage space on your and your parent's devices.
You can now add documents and web links directly to your observations when editing observations on your websuite! CLICK HERE to find out how.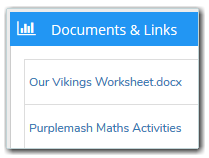 Parents can then create their own observations, adding photos, videos, notes, and completed work in response, or just add their "parent notes" to the original observation. It's a great way of setting and managing practical, hands-on project-style home learning which is very popular at the moment.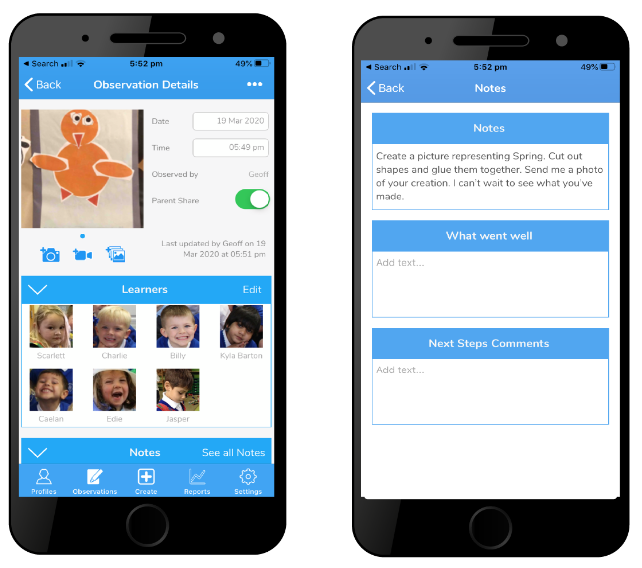 The perfect way to engage with parents and learners whilst they are at home!!
Parent Share Setup
There are two ways to set up Parent Share so that you can either share observations with parents manually or instantly.
Turning ON the Parent Share review process allows you to check observations before sharing with Parents and manually release them at a particular time frame for example at the end of each week, month, term, etc.
Turning OFF the Parent Share review process allows you to instantly share observations with parents at the point they are marked for Parent Share.
You can turn ON/ OFF the Parent Share review process at any time by following the below steps:
From the Admin area click on the plus icon  next to Modules
Click on the plus icon  next to Evidence Me
Click Parent Share
Select ON/ OFF
Click HERE to view our Parent Share Help for Parents.