The Birth to 5 matters guidance provides practitioners with a different approach to managing their observations and assessments.
This guide shows you how to get the most out of the Birth to 5 approach in Evidence Me.
If you would like the Birth to 5 Matters framework activating on your account now, please email support@evidence.me
Step 1 – Capturing Observations
When you are creating observations in the app or on the website, you can select the "Birth to 5" framework, then choose which areas of learning are covered in the observation.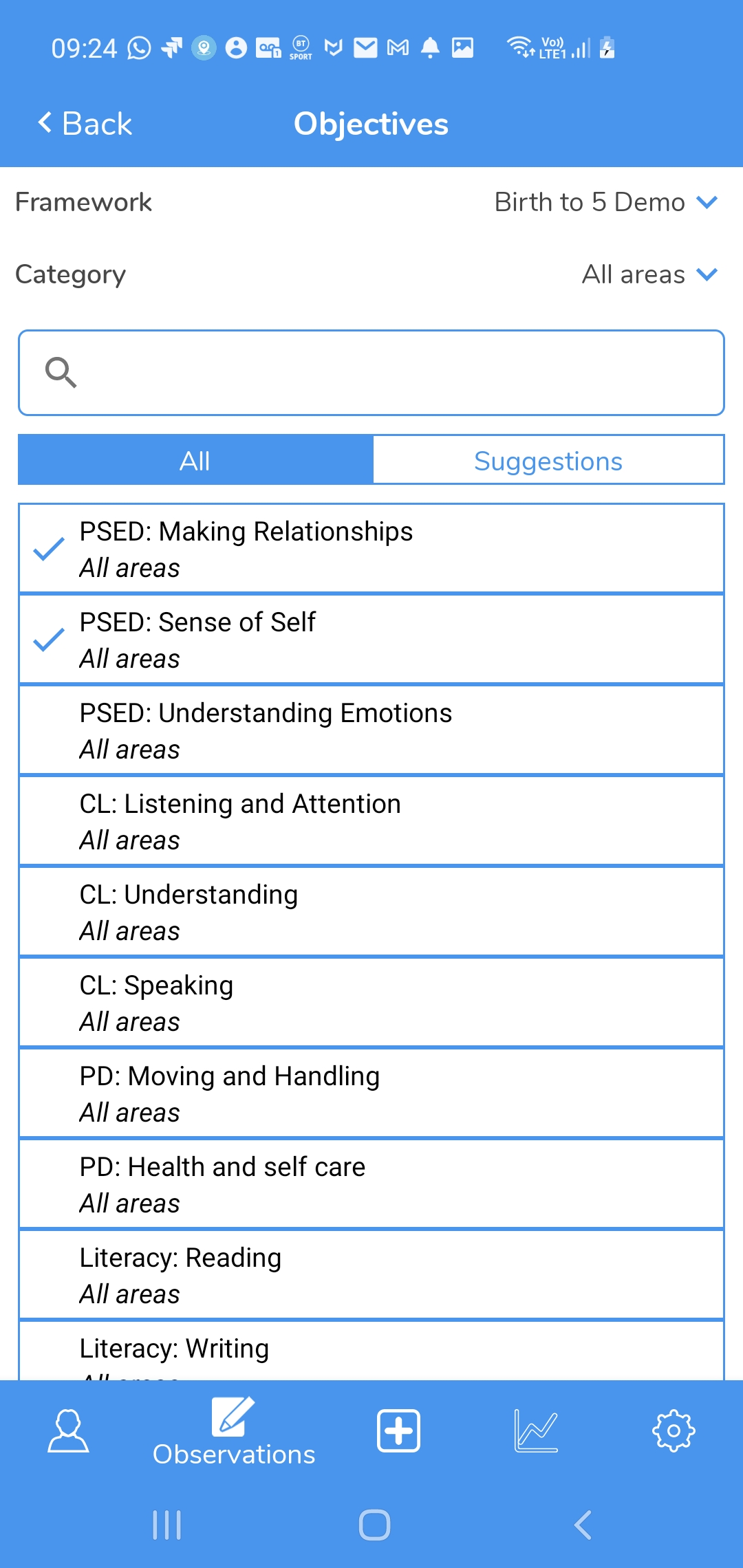 Assessment in the Web Suite
The mobile app is perfect for making quick assessments for individual children. The web suite provides you with an extremely powerful and insightful area to manage all assessments for your whole setting.
Your Birth to 5 Matters observations will be available for you to reference when you perform your assessments.
On the assessment page, you will see your children shown, along with any judgements that you have added.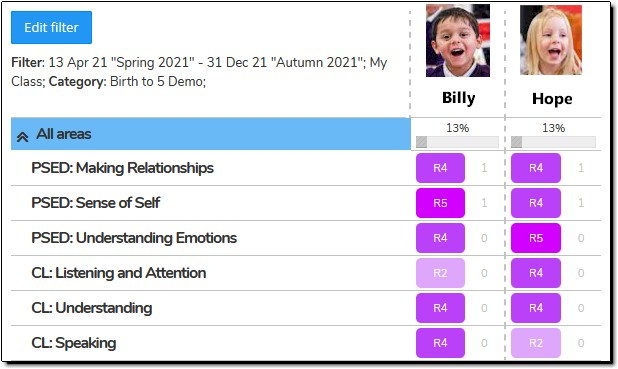 The "R1" – "R6" judgements represent the "Range 1" to "Range 6" ranges as specified in the Birth to 5 Matters guidance.
(The percentage is an optional feature that you can use to help guide your assessment process. You probably won't need this with Birth to 5 Matters)
Next, click on a judgement to change it. The following assessment helper will appear: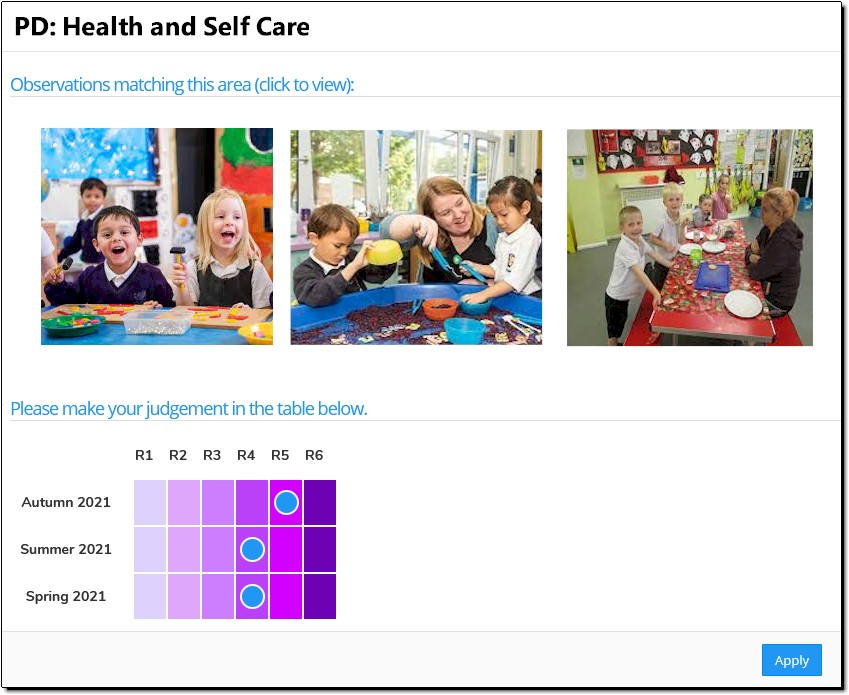 This page is clearly showing what Range the child is currently in. and also their progress over time.
You can click on any judgement to change it.
Quick Assessment in the App
It is very quick and simple to make assessment judgements in the app. To do this:
Go to "Profiles" on the bottom tab in the app
Find the child that you would like to assess
Select the "Birth to 5" Framework
Tap "All Areas" to see all areas in the framework
Then you will see this: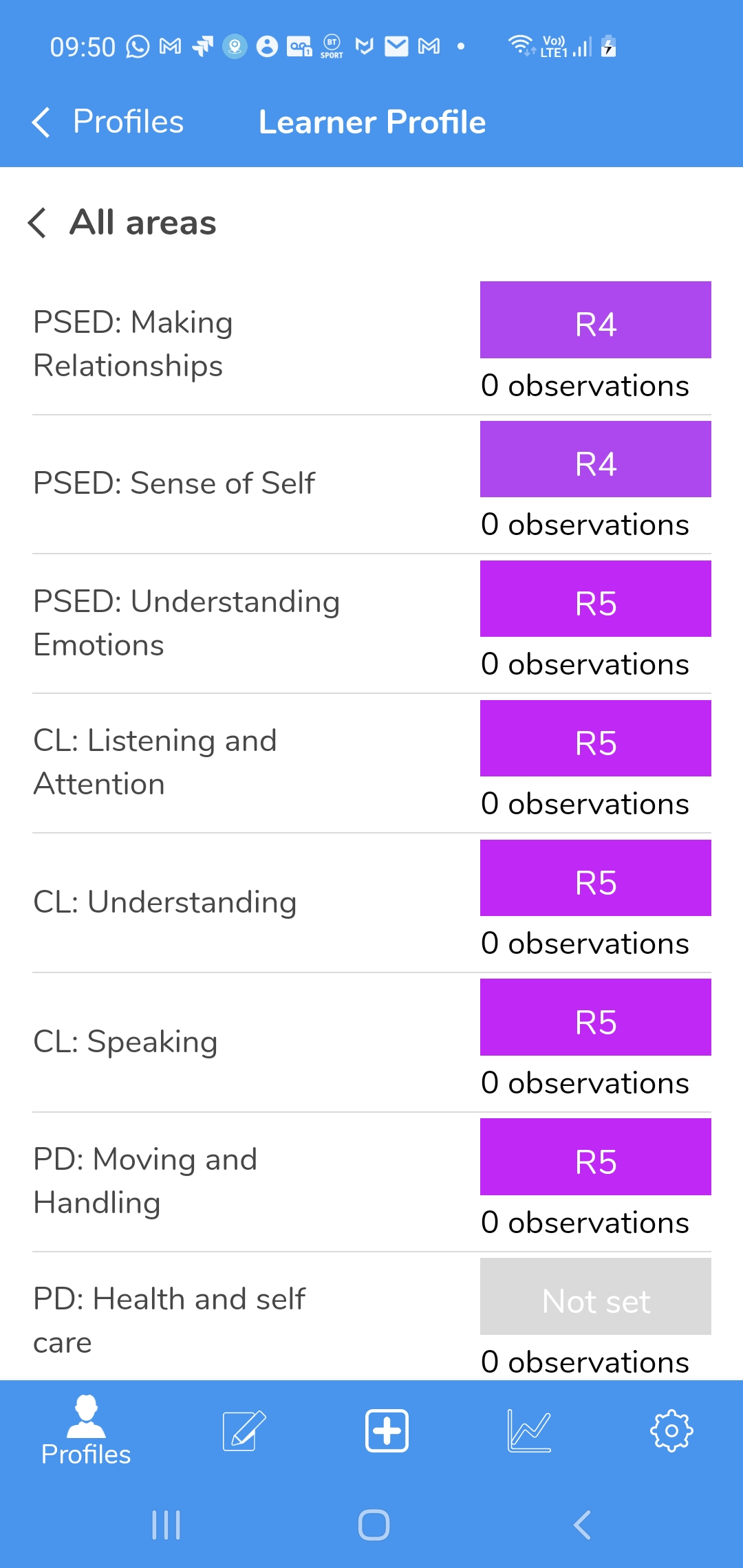 Tap on an area to change it.
That's it!
Selecting/ Monitoring Individual Birth-5 Matter Statements
The publishers of the Birth-5 Matters guidance have stipulated that no assessment or observations software is permitted to directly track or assess individual Birth-5 Matters objectives.
This stipulation is intended to promote an approach where less time is spent on record keeping.