Step 1: Setup your Users
Log into the Websuite using your Admin user details
Go to Account Options
Click on User Accounts
Enter the new User's name and their email address (this will become their username)
Click Add Account
The new user will then receive an email to set up their own password, once this is set they will be able to log into the App and Websuite
Repeat for all users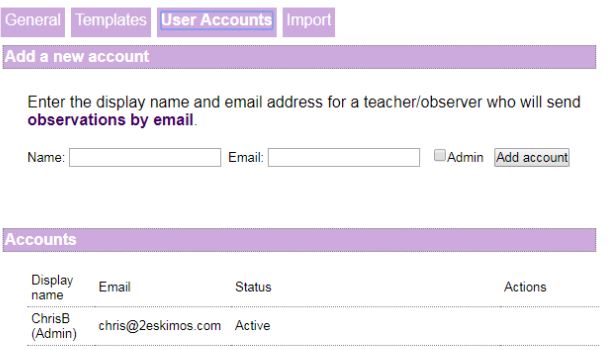 Step 2:  Set up your classes (on your computer)
First, generate a CTF file from your SIMs system or similar. Please ask your school administrator for this
Go to the websuite: www.2buildaprofile.com
Enter the licence details from your welcome email
Click on Class Setup and then click on the 'Import Learners' tab
Please click the 'Choose File' button and select your CTF File
Click 'Upload to 2Bap' button
Please click on Class Setup to view your classes
PLEASE NOTE: If you do not have a system to generate a CTF file, please click HERE and view Option 2 for an alternative way to add your classes!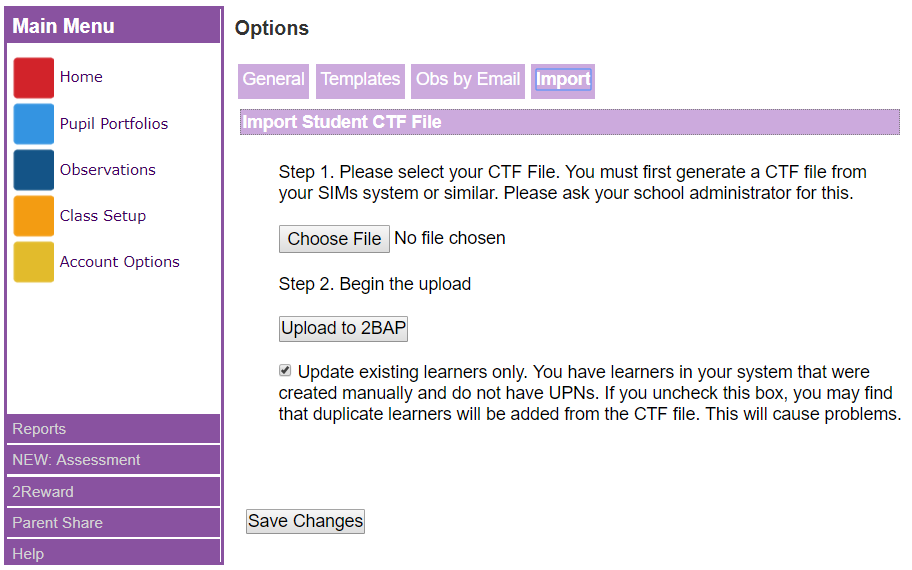 If you're using 2Build a Profile without a tablet please click HERE to skip straight to Websuite Observations.
Step 3: Download the app (on your device)
Apple: Go to the App Store and search for '2simple EYFS' in the App store.
Android: Click HERE and follow the Android installation guide.
Download 2Build a Profile app to your device.
Step 4: Set up the app (on your device)
Open the app on your device.
Tap the cog in the bottom left of the screen to access settings. Enter the licence details from your welcome email and click log in.
A message will appear asking if you would like to download the latest class list from the websuite – say yes. (version 1.10+ only)
Scroll to the bottom of settings and turn ON 'Use multiple devices'
Turn OFF 'Use this as the master device'
If you are not prompted to download the class list, go back out of settings and tap the top of the post-it note to go to the classes and learners screen and click 'refresh' in the bottom left corner
Your device has been automatically synchronised with the websuite!
Step 5: (If you have time!) Take profile photos for your learners- you can always add these later
Click on the post-it note to go to the classes & Learners screen on your app. (You can now see all your classes)
Select "show all experiences for a learner".
"long-press" on a child.
Click "take portrait photo".
Repeat for the rest of your class.
The pictures will be automatically sent up to the websuite to update the children's portfolios.
Step 6: Take an observation (on your device)
Select your class from the classes and learners screen (show all experiences for <class name>)
Click on the camera icon.
Take a picture.
Click on the post-it note to add some notes ( You can dictate these if your device has speech recognition software e.g SIRI).
Click "add learners" and select the children in the observation.
Click "Add objectives" and select the objectives covered.
Only available with Parent Share: If you want to share the observation with the children's parents just click "Parent Share".
Click finish.
In a couple of moments, you will see a green dot appear in the corner of the observation. This means that the observation has been uploaded to the websuite and is safe and secure on our servers.
Step 7: Generate a report (on your computer or device)
Go back to the websuite www.2buildaprofile.com
View and edit your observation's in 'Observations' and make any changes to the notes/learners/objectives. Remember to 'save changes!'
Click on Pupil Portfolios.
Select a child/class
Choose the date range for the report that you want to create.
Choose PDF or Word. If you choose Word you can edit the final report.
Click submit