Add learners
CSV
You can now upload your new classes using the new CSV upload feature. Click HERE to download our CSV template and instructions. To upload the CSV template, please follow the below instructions:
First, input your class information into the CSV template.
Log into your websuite
Please click on Class Setup to view your classes.
Click on Class Setup and then click on the 'Import Learners' tab
Please click the 'Choose File' button and select your CTF File
Click 'Upload to 2Bap' button
Your new classes will now be visible in the Class Setup section.
CTF
You can add new learners by uploading a CTF file, to do this please make sure your CTF file is downloaded to your computer, go to Class Setup and click on the Import Learners. From here you can select your CTF file and upload your new learners.
When generating a CTF file you should only include classes that you wish to add and/or update learners in 2Build a Profile. The CTF file will need to include the following information for each learner:
First Name
Last Name
DOB
UPN
Gender
Year Group
Primary Contact email address (if Parent Share module in use)
Note: You can add individual learners through-out the year by uploading a CTF file of the child's details!
Alternatively, you can add learners by going to Class Setup and onto Click here for quick entry screen, you then simply type in the child's name into the relevant group. When you save changes they will automatically be given a learner ID.
You can now also add children individually into the New Class Setup Area. You can do by going to Class Setup area and selecting your class from the list and clicking the Add under the Learner menu.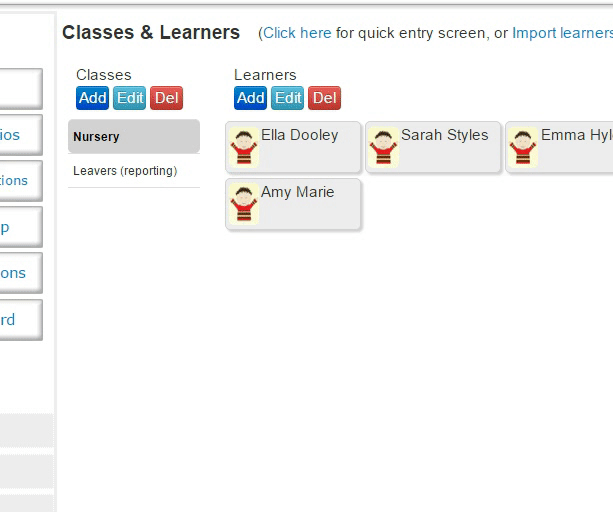 Delete learners
To remove learners from the Class Setup, select the Class and highlight the learner's profile and click Delete.
Modifying Learners
You can add in D.O.B, UPN number, and gender by uploading a CTF file with this information to the new Class Setup area.
Please follow the below steps:
Generate a CTF file from your school system containing the learner's full names and the date you require
From your websuite select Class Setup and click on the Import Learners
Select your CTF file and make sure the Update existing learners only box is ticked
Once your file has uploaded your children's information will now be added to their profiles.
Alternatively, if you are unable to generate a CTF file, you can still add in all your children's information manually.  To add in your learner's information please follow the instructions below:
Log into the websuite (www.2Buildaprofile.com)
Click into Class Setup
Click on a class and select one of your children
Please click the Edit under learners
Add in the date of birth in this format DD/MM/YYYY and click onto the correct date on the calendar
You can also add in the child's UPN number and set their gender
Click Update
Please click HERE to watch our Modify Classes and Learners help video!