What is Evidence Me?
Formerly 2Build a Profile, our new assessment app Evidence Me has been launched it has been designed with teachers to help teachers; with new features tailored to your needs.
Existing 2Build a Profile customers can upgrade to the new Evidence Me app and web suite for FREE.
​
How do I upgrade?
An upgrade link will appear on your 2Build a Profile web suite which you will need to click to start the upgrade process.
Please click below to view our upgrade help video:
​
I can't see the "Upgrade to Evidence Me" link
If you would like to upgrade and don't yet see the upgrade banner please contact us.
What happens when I switch to Evidence Me from 2BAP?
Your administrator will receive an upgrade email and will need to click on the link to confirm the upgrade
Your administrator will then receive a second email containing the Evidence Me login instructions
Your administrator will then need to set up user accounts for all users. 
All users will receive a setup email explaining how to log in and set up a password
You will need to install the new Evidence Me mobile app and access the new Evidence Me web suite.
Will my 2BAP data be available in Evidence Me?
Yes. Virtually everything from 2BAP will be transferred automatically across to Evidence Me. This includes Classes, Groups, Learners, Parents, and Observations.
What will I have to do to complete the transition to Evidence Me?
New feature – individual user accounts. For maximum security, you should set up individual user accounts for all of your school's users. You should not use the logins from 2BAP.  Click here to read the help on setting up new users.
Customised observation templates. If you have customised your template (adding your logo, or other changes), then you will need to also do this in Evidence Me. Click here to find out how.
Assessments. If you want your historical manual assessments from last year transferred to Evidence Me, then please email support@evidence.me  to let us know. We will work with you to work out the best way to do this.
Will my custom frameworks be available in Evidence Me?
Yes, they will be soon. We are working hard to convert and transfer all of these custom frameworks to Evidence Me.
If you have custom frameworks we can transfer these over to your Evidence Me account upon request by emailing support@evidence.me (this will take 4-5 working days).
How do I migrate parents over to Evidence Me?
Please follow the below steps to migrate the parent from your 2Build a Profile account to Evidence Me.
Log on to your 2Build a Profile Web Suite (you will still have access to this for 30 days after upgrading to Evidence Me)
Click Parent Share
Click Email Options
Select your class from the dropdown box
Click Transfer all confirmed parents to Evidence Me
Complete this process for each class required
This will then invite all of the confirmed parents on your 2Build a Profile to the new Evidence Me system. They will be immediately sent a new invitation by email.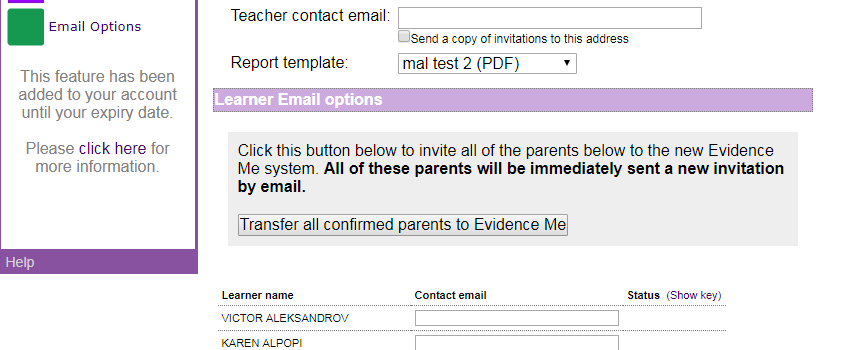 PLEASE NOTE: All observations marked for Parent Share on 2Build a Profile will automatically be marked for Parent Share and shared with parents on Evidence me. We strongly recommend checking your Evidence Me data before migrating parents.
What happens to my 2BAP account after I have upgraded to Evidence Me?
Your 2BAP account will remain available until you have fully transitioned over to Evidence Me. After that time, your 2BAP account will be deactivated.