You can edit the Observation Note Fields at any time on your account.
The default Observation Note Fields are:
Notes
Next Steps Comments
Parent Notes
To view the Note Fields
From the Admin area click on the plus icon next to Modules
Click on the plus icon  next to Evidence Me
Click Observation Notes
Edit Note Fields
Click on the note field you would like to edit so that it highlights in blue
Click on the edit icon on the Observation Note Fields bar
Make changes to the relevant fields
Click Save changes
PLEASE NOTE: If you change the Name of this Note field, all of the Observations that used this Note field under the previous Name will be changed too. If you don't want this to happen, please create a new Note field instead and set this one to inactive.
Add New Note Fields
Click on the plus icon on the Observation Notes Fields bar
Complete the relevant fields
Click Create
PLEASE NOTE: If you add a new note field it will appear on all new and existing observations.
Re-order Notes Field
Click on the note field you would like to move
Drag and drop the note field into its new position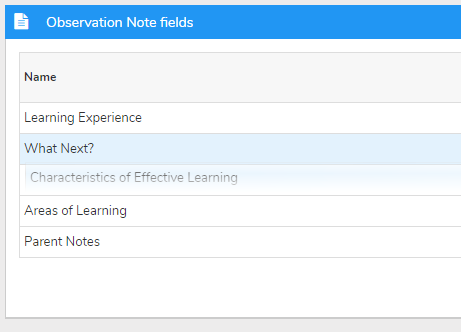 Delete Notes Field
Click on the note field you would like to delete so that it highlights in blue
Click on the delete icon  on the Observation Note Fields bar
Click Delete
PLEASE NOTE: